IMarEST supports online course aiming to close skills gap in offshore wind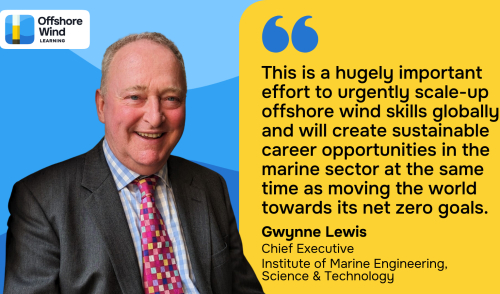 Offshore Wind Learning is aims to be an affordable and accessible online course hoping to attract the 1 million people needed by the end of this decade to meet growing offshore wind demand.
Offshore Wind Learning, a new online course covering all the most important topics for the offshore wind sector, has been launched to help fill the industry's skills gap.
Offshore wind is one of the world's fastest growing industries, with over 64GW installed across the world today. But more and more governments globally are scaling up their offshore wind ambitions to increase energy security, meet decarbonisation goals, and create new local jobs and economic opportunities.
Offshore Wind Learning (OWL) predicts that almost 1 million people* will need to join the offshore wind workforce by the end of this decade to meet this booming demand and help keep the world on track to achieve net zero. But building a skilled workforce and transitioning workers from other industries in such a short amount of time is no easy task – and this is a key challenge that OWL aims to tackle.
Developed by three offshore wind industry experts with over 45 years of experience between them across the public and private sector, the online course provides a holistic overview of the offshore wind sector for anyone looking to scale up their offshore wind knowledge.
"We have built Offshore Wind Learning to be accessible to anyone, both in terms of price point and content. Since our main goal is to educate as many people as possible on offshore wind, we've made the online course extremely affordable and easy to understand, regardless of someone's background", said Alastair Dutton, Co-founder of Offshore Wind Learning.
"Whether you are a student looking for a sustainable career path, or an oil & gas worker looking to transition to the sector, or a financier looking to better understand the sector to invest, or just someone who is interested in learning more about one of the most important decarbonization solutions – Offshore Wind Learning is for you", commented Chris Lloyd, Co-founder of Offshore Wind Learning.
Offshore Wind Learning is supported by the Energy Institute and the Institute of Marine, Engineering, Science & Technology (IMarEST), who share its vision of building a skilled workforce and facilitating a just transition.
"The Institute is proud to be associated with Offshore Wind Learning, which stands apart in its bid to be accessible to all professionals, and aligns with the Institute's aims in supporting the development of marine professionals and students, no matter what stage of their career they are in. This is a hugely important effort to urgently scale-up offshore wind skills globally and will create sustainable career opportunities in the marine sector at the same time as moving the world towards its net zero goals", Gwynne Lewis, Chief Executive, Institute of Marine Engineering, Science & Technology.
The online course is comprised of 8 modules, with 3-4 lessons each on all the most important topics to provide students with a solid foundation on the offshore wind sector. Each lessons contains audio, video, visuals, interactive activities, quizzes and more to give students a chance to not only learn, but to apply their knowledge to real-life situations.
Offshore Wind Learning has already launched the first two modules: Fundamentals, and Development. A new module will be released on a monthly basis, including the following modules: Project Design and Engineering; Human Resources; Markets and Frameworks; Project Services; Supply Chain and Construction; and Operations and End of Life.
The entire course is available for the affordable price of £100. Students can enrol at any point and will receive access to all eight modules.
*Offshore Wind Learning calculated this figure based on peer review of 14 existing industry studies on the number of person-working days required to install and operate offshore wind projects, as well as GWEC and IRENA forecasts on expected offshore wind capacity installations. Note, the exact figure of expected workforce additions is 979,400 over the next decade based on current offshore wind market outlooks, and will increase as annual growth accelerates