Coverage of illegal fishing in Galapagos wins IMarEST Kevin Tester Award for Marine Journalism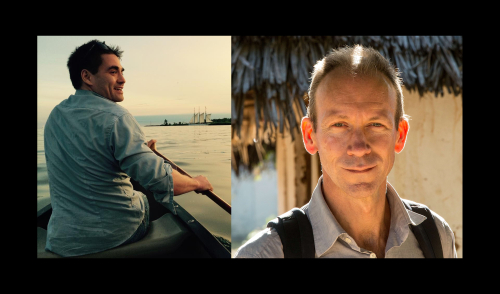 Chris Arsenault, a CBC journalist and Philippe Le Billon, a professor at the School of Public Policy and Global Affairs (SPPGA) and the Department of Geography at the University of British Columbia have been awarded the annual Kevin Tester Award for Marine Journalism presented by the Institute of Marine Engineering, Science and Technology (IMarEST).
The pair were selected as winners for their in-depth feature1 about how Ecuador is using Canadian satellite and sensing technology to combat illegal fishing in the Galapagos. The article highlights that 'an estimated 11 to 26 million tonnes of fish are illegally captured and unreported annually, according to estimates from an Imperial College London study cited by the United Nations'.
Chris and Philippe explain the motivation for the story, saying: " There's been plenty of coverage on illegal fishing, including around the Galapagos. But we didn't just want to flag the problem; that's been done. We wanted to drill down on possible solutions and get the view from the ground (or water in this case) on whether new technologies are making a difference."
The story featured as a news story on the Canadian Broadcasting Company (CBC) website in June 2022 just ahead of the United Nations' International Day for the Fight against Illegal, Unreported and Unregulated Fishing (IUU).
The IMarEST's Kevin Tester Award, honouring the Institute's former technical advisor and marine journalist, recognises the work of a journalist or team of journalists for exemplary reporting relating to a marine or maritime issue. It aims to identify and encourage high quality coverage of marine or maritime matters to bring about constructive change, increase public awareness and improve understanding. Entries are judged on originality and mastery of the subject, clarity in writing, relevance, reach and impact.
"Huge congratulations to Chris Arsenault and Philippe Le Billon who have reported on this important issue. Quality journalism like this, helps to raise awareness of often unseen marine and maritime issues and news, encouraging debate and understanding among the general public." Gwynne Lewis, Chief Executive, IMarEST.
Chris and Philippe say of winning the award: " Winning this award from the Institute of Marine, Engineering, Science & Technology is gratifying because it means the world's leading authorities on maritime issues enjoyed the reporting, and felt we did the subject justice. If you can engage both the experts and the broader public, that's the mark of good reporting, and we are humbled to be recognised for it."
As part of their prize, Chris and Phillipe will become Affiliate members of the IMarEST for a year giving them access to a wide range of Institute activities including conferences, panel discussions and lectures.