MoD's Rear Admiral Paul Carroll: 'IMarEST brings together a great diversity of thinking'
With IMarEST's Engine as a Weapon conference due to be held later this month, we speak to joint keynote speaker Rear Admiral Paul Carroll OBE about its benefits.
As the Director for Innovation and Future Capability at Defence Equipment and Support (DE&S), Rear Admiral Paul Carroll's responsibilities involve the initiation and delivery of some of the most complex and high-profile defence projects in the UK.
These include the Type 31 Frigates being manufactured in Rosyth, Fleet Solid Support ships which are built across the UK and Spain and integrated in Belfast, and innovative Royal Fleet Auxiliary vessels such as RFA PROTEUS – formerly the offshore support vessel MV Topaz Tangaroa – which has been procured at pace to protect critical underwater infrastructure.
His role also includes looking to the future with programmes including advanced maritime autonomous systems, the future air dominance system and Type 83 destroyer, and replacement shipping for the UK's Commando force.
The conflict in Ukraine and the increasingly unstable situation across the Middle East has shown that the need for credible and persistent naval capabilities to reassure and support allies and deter aggression is as crucial as ever.
For example, the rapid procurement and conversion of RFA PROTEUS is just one project which highlights the increasingly important relationship between naval and commercial expertise. In that regard, Paul told us IMarEST's Engine as a Weapon conference couldn't come at a better time.
"This conference in particular is focused on the naval sector, but what we do in the naval sector is very much informed by developments in the wider commercial maritime industry," Paul said.
"For example, quite apart from actual ships themselves, the Royal Navy's substantial investment in maritime autonomous systems draws across a high degree of expertise in operations, manufacturing and design from the commercial sector.
"Or, if you take something like RFA PROTEUS, that is a ship that has essentially been converted from a commercial vessel and is using technology adapted from civilian use to protect critical underwater infrastructure. This includes data cables, gas pipelines, and other elements of critical underwater infrastructure that provides a vital service to everyone in the UK.
"So, the ability of IMarEST to bring together a great diversity of thinking in these areas is important as we seek to contribute to 'one defence' and rapidly respond to a diverse range of threats faster than our adversaries to maintain our operational edge."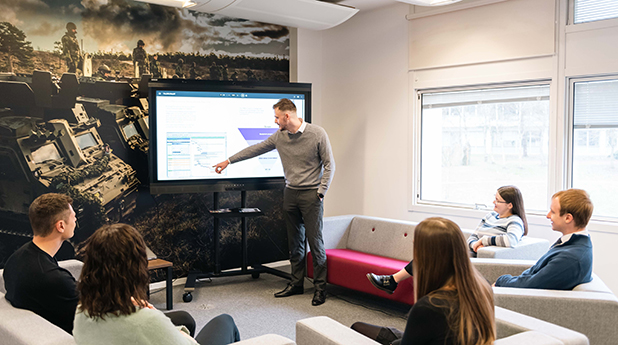 Critical thinking, MoD
A wide range of ideas
That reference to 'diversity of thinking' is particularly relevant. Paul is a champion for neuro inclusivity within Defence Equipment and Support and the wider Ministry of Defence (MoD), and it's an area that he cares about deeply.
"People often see things from one angle, but you have to step back and see things from a global perspective. Many of my colleagues in the portfolio I lead have been selected and empowered deliberately because they see things differently," Paul stated.
"Much of my time involves creating teams and allowing positive tensions to engender novel solutions, often using tools such as 'war games'. These bring together engineers, naval architects, operators, commercial officers and project managers to consider the challenges we face using advanced operational analysis tools. They look at problems holistically, examining operational data and scenarios to work out how to deliver the outcomes we need as effectively and efficiently as possible. We can then translate this learning into system requirements whose development then shapes future platform design."
Modern systems and platform design is a theme at the heart of Paul's Engine as a Weapon keynote speech, which he will make alongside BMT's Chief Executive Sarah Kenny OBE. This combination demonstrates not only a diversity of perspective but also the evolving collaboration between the MoD and a defence industry which is changing and expanding in the wake of current world events.
"Our talk will focus on people rather than the specifics of technology. Sarah and I will deliberately be looking at it from different perspectives. Examining how we, as senior leaders, bring together great teams to look objectively at problems, ask the right questions and deliver novel solutions," Paul confirmed.
"'How do we put a naval architect and a marine engineer next to an AI specialist?' 'How can we feed operational data into the system in order to exploit expertise from the broadest possible base? These [questions] will be key to maintaining our ability to adapt and deliver at pace."
Marine sustainability to the fore
As a conference attendee, Paul is also looking forward to hearing thoughts regarding other aspects of marine engineering, particularly sustainability. Paul told us sustainability is crucial for naval operations with the MoD recently issuing a comprehensive strategy and plan to meet its commitments in this area.
The Armed Forces are making a huge effort in terms of improving our performance on sustainability. From a naval perspective working with colleagues across Government, such as the Department of Transport, and supporting initiatives like UK SHORE has seen us investing and acting as a supporter for these technologies, many of which have been led by the commercial sector," Paul explained.
"The ability to sustain a force persistently with the lowest environmental impact and minimal logistics chain is a vital capability in itself. The key thing for me is to find where anticipated advances in technology can meet a dual purpose, not to just achieve legislative compliance but ideally to be ahead of it. In terms of platform design, we have deliberately put pathways into programmes such as Fleet Solid Support that allow us to incorporate new green technology quickly when available."
"IMarEST's Engine as a Weapon conference will allow us to bring together a diversity of thought, from a wide variety of nations to consider a broad range of challenges impacting the naval sector today and tomorrow," Paul concluded.
---
IMarEST's Engine as a Weapon conference will take place on November 28-29th at SS Great Britain, Bristol.
For more details and to book tickets, visit https://www.imarest.org/events/engine-as-a-weapon.html,